Lifestyle Medicine Week 2021 Day 1
By Sarah Nicolson
30th May, 2021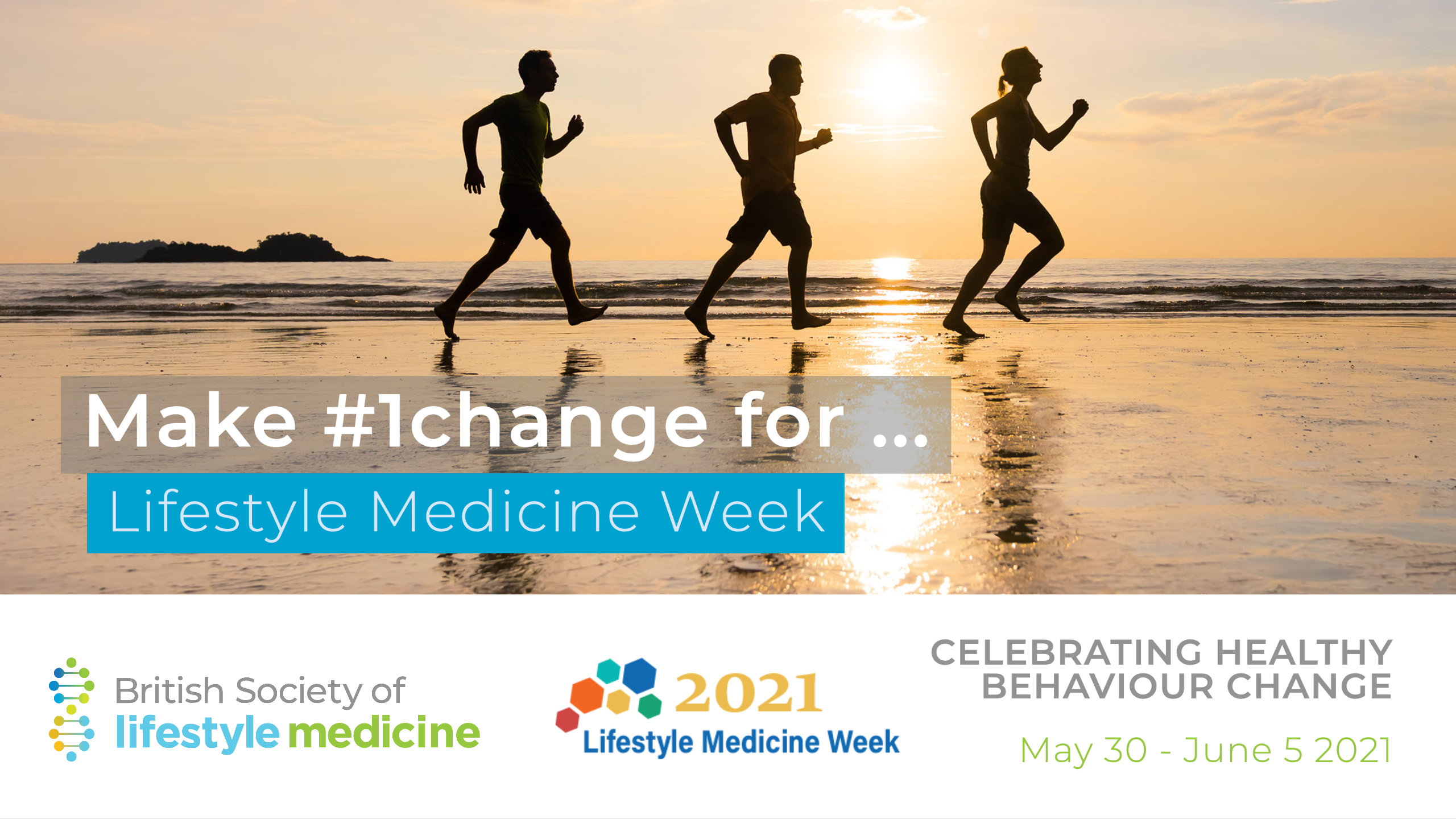 Today marks the start of Lifestyle Medicine Week 2021 – the annual global celebration of healthy, supported behaviour change.
The week runs until June 5th and here at BSLM we will be making the most of this opportunity to raise the profile of lifestyle medicine.
Lifestyle medicine is an established, evidence-based discipline of healthcare which has the potential to improve the lives of millions of people around the world who suffer from chronic underlying health conditions.
The way we lead our lives (lifestyle) contributes to around 70 per cent of long-term illnesses – and by making changes to the way we live (at the individual and the societal level) we believe we can have a big impact on the problem of non-communicable disease.
The British Society of Lifestyle Medicine was founded in 2016 with a mission to reframe healthcare using the principles and practice of lifestyle medicine.
Our ambition is to put lifestyle medicine approaches at the heart of our healthcare systems. In doing so we believe we can help people to prevent, treat, manage and reverse debilitating and life-threatening conditions such as diabetes, heart disease, some cancers, respiratory and musculoskeletal conditions and mental health illnesses.
What's happening during Lifestyle Medicine Week?
Every day this week we will be focusing on one of the core pillars of lifestyle medicine:
Sunday, May 30: Intro to Lifestyle Medicine
Monday, May 31st: Physical activity
Tuesday, June 1st: Sleep
Wednesday, June 2nd: Diet and nutrition
Thursday, June 3rd: Stress reduction and mental health
Friday, June 4th: Healthy relationships
Saturday June 5th: Harmful substance reduction or cessation
We will be sharing content and updates via all our social media channels on each of the days and we welcome your comments and input.
Our members, trustees and directors have prepared informative content which will look forward to sharing with you during the week.
How can I get involved?
During Lifestyle Medicine Week 2021 there are a number of ways you can get involved.
We hope you enjoy the content we will be sharing during the week and look forward to hearing from you on social media.
If you're talking about lifestyle medicine this week on social media please use the hashtag #LMweek and/or #lifestylemedicine
You can find all the British Society of Lifestyle Medicine's social media channels via: linktr.ee/BritSocLM
Make #1change to improve your health and wellbeing
We would also love to hear about your plans to make #1change to improve your health and wellbeing during the week.
Our #1campaign is aimed at encouraging people to commit to small and realistic behaviour change which can have a positive impact in their lives. It's about nudging and coaxing changes in our behaviour, using safe and tested lifestyle interventions, to achieve long-term health benefits.
And you can also get involved with our fundraising campaign …

BSLM Fundraising campaign
BSLM is also asking people to get involved with our fundraising campaign during Lifestyle Medicine Week to support the launch of our new Learning Academy.
BSLM's Learning Academy will support clinicians and other healthcare professionals to develop their skills, knowledge and expertise in lifestyle medicine through training, courses and CPD opportunities.
We are currently fundraising to help towards the £40,000 cost of the Academy's new Learning Managment System
To get us started, our Chief Executive Dr Fraser Quin is cycling the North Coast 500 route in Scotland.
Head to our Just Giving page to find out how you can support the campaign.

If you're interested in learning more about lifestyle medicine – why not join us for the British Society of Lifestyle Medicine's annual conference?
BSLM2021 takes place at the Edinburgh International Conference Centre from September 2-4 and is an opportunity to meet with other clinicians, healthcare professionals, researchers, academics and patients with a shared interest in lifestyle medicine.