Supporting nurses through lifestyle medicine
Nurses are more likely than other clinicians to make lifestyle assessments in a consultation 1 but report a lack of training and confidence 2.
The BSLM provides up-to-date and clinically relevant training for nurses wanting to use lifestyle as medicine.
Join the growing number of lifestyle medicine qualified nurses today!
BSLM are attracting many nurses to gain the knowledge and skills to support their patients with chronic illness utilising the key lifestyle medicine principles but we'd love to reach each and every nurse throughout UK and beyond and are grateful for your support in sharing this far and wide. This nursing campaign is aligned with BSLM's wider movement, which looks to integrate evidenced-based lifestyle medicine measures throughout all healthcare practices. Nurses can claim 50% off their first year of BSLM Membership using code "NURSE50" and additionally can claim a FREE Lifestyle Medicine Overview course by clicking the relevant link below and entering code "OVERFREE" at checkout.
*registered nurses only*

Nursing Issues
---
There is no doubt that nurses in this country experience a severe lack of support in a variety of ways, with pay, working conditions and training all critical factors that have come under scrutiny. It is no coincidence therefore, to see that Nurses have an increased risk for non-communicable diseases, and have a higher prevalence to obesity, unhealthy eating habits and insufficient physical activity3. This causes concern for our colleagues and creates strain on nursing as an industry. Nurses are an integral part of the healthcare backbone that ensures our families, our communities and our day-to-day livelihoods can prosper.
Lifestyle Medicine in Nursing
---
Lifestyle Medicine can equip nurses with the tools they need to support patients, while also improving their own health and wellbeing.
Although it is hugely important to drive conversation about the issues surrounding nursing, it is imperative that this conversation does not simply end after reading about it somewhere online. Nurses have the capacity to offer effective person-centred healthcare directly to their patients 4, however this can only be achieved by equipping nurses with the tools to deliver this. Simply advising patients on the dos and don'ts of their lifestyle is more often than not inadequate when it comes to driving behaviour change 5
BSLM advocates the adoption of various lifestyle medicine skills, which have proven to be successful with regards to improving the wellbeing of patients. To be effective in supporting lifestyle change, lifestyle medicine uses knowledge of behavioural science to work with patients. This way we can work with people and their values to support problem solving and equip them with skills to make the changes they want to make. Some of these techniques have been shown to be at least 80% more effective in supporting behaviour change than traditional advice giving.6
Delivering Lifestyle Medicine in Nursing
---
Here are some real-world success stories of how nurses have used lifestyle medicine to positively shape how they deliver healthcare…

Ensuring UK nurses are equipped with the essential lifestyle medicine knowledge
As part of our campaign to support nurses across healthcare, we are offering our Learning Academy course – Lifestyle Medicine: An Overview – FREE to all nurses in the UK"
Course Description
This course will provide learners with the foundational knowledge of lifestyle medicine, covering some of the controversies, challenges and opportunities around using LM. It will also explore how its personalised individual supportive approach fits with public and population health approaches. There will also be a look at some of the key pieces of evidence that inform LM and the key principles and skills that have been found to support patients to sustain healthy lifestyle changes – Nurses can claim this course for FREE by using the code "OVERFREE" at checkout!
View the Lifestyle Medicine Overview Course
For more comprehensive education on lifestyle medicine and how to implement in into your practice check out our Lifestyle Medicine Core Accreditation
View the Core Accreditation Courses
BSLM Membership Offers
As part of our push to support nurses access and utilise the evidence of lifestyle medicine, we are offering 50% off the first year of membership for registered nurses. Access CPD-accredited webinars, events and resources that provide extensive healthcare knowledge, equipping members with the tools they need to support themselves and their patients. To learn more about the benefits of being a BSLM member and join our growing healthcare community, click the button below.
Use the code "Nurse50" to redeem the offer and join as a registered nurse
Nursing Resources
---
To support nurses everywhere, and encourage the adoption of key lifestyle medicine measure throughout the industry, please make use of and share a variety of resources.
BSLM Nursing Factsheet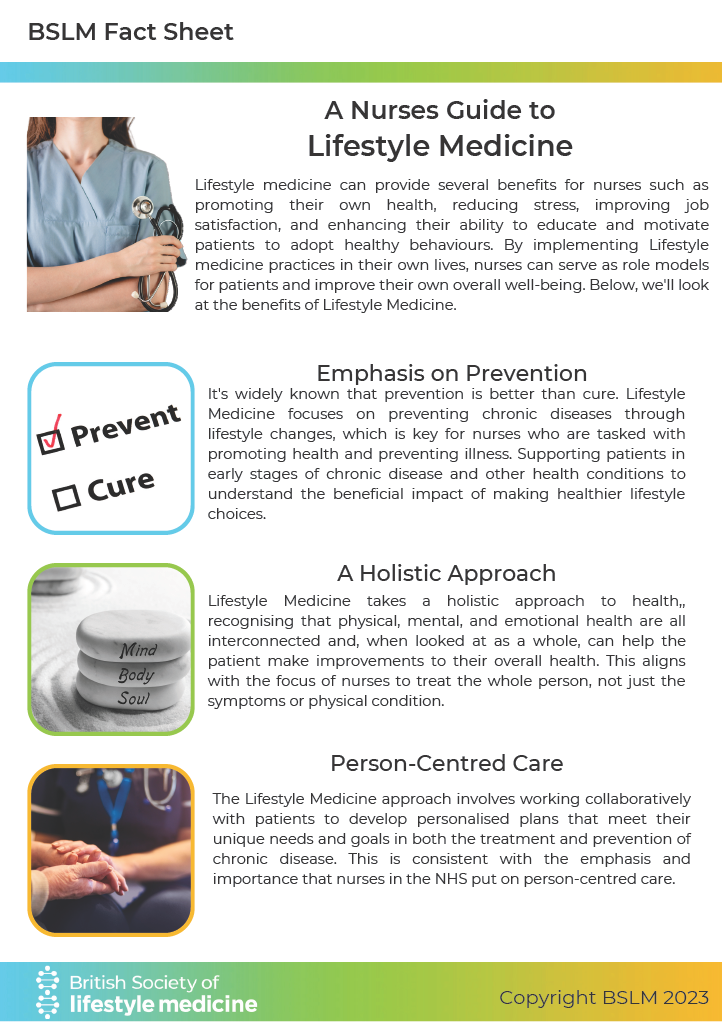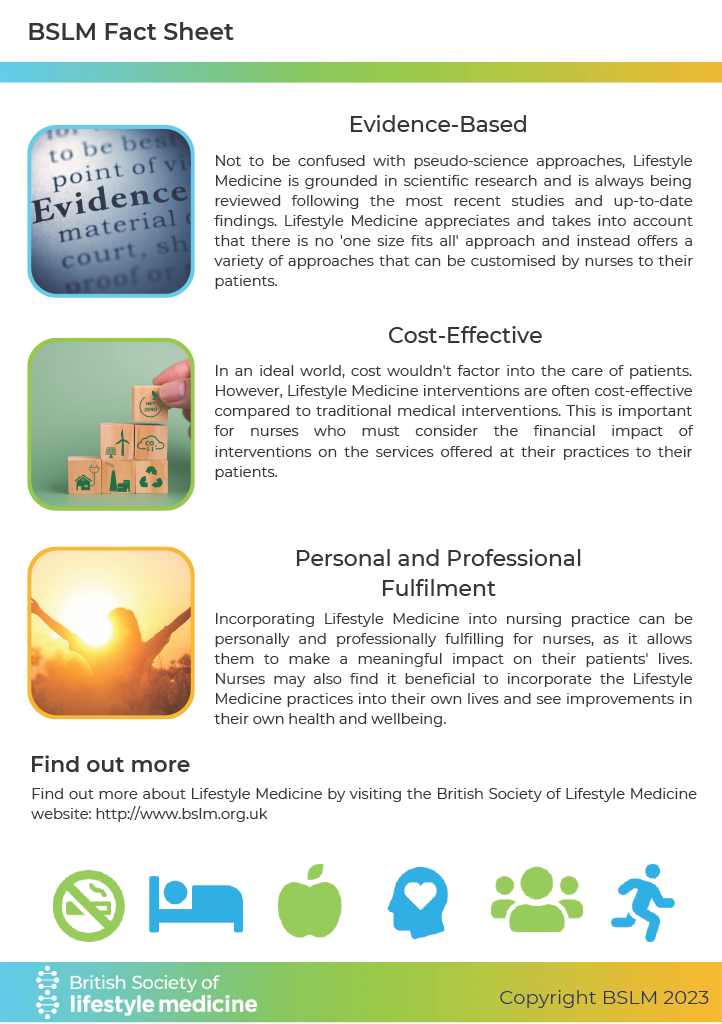 Articles and Research:
Useful Websites:
Sources:
---
Critchlow, N., et al. (2020) Weight assessment and the provision of weight management advice in primary care, BMC Fam Pract 21, 111
Murphy, J.L. et al, (2013), The importance of nutrition, diet and lifestyle advice for cancer survivors. J Clin Nurs, 22: 1539-1549
https://www.researchgate.net/publication/269715327_Nurses%27_lifestyle_behaviours_health_priorities_and_barriers_to_living_a_healthy_lifestyle
https://www.britishjournalofcommunitynursing.com/content/professional/supporting-student-nurses-to-develop-healthy-conversation-skills/
https://doi.org/10.1177/1757913917751564
Rubak S et al, Motivational interviewing/ a systematic review and meta-analysis. Br J Gen Pract, (2005), 55, 305. McGinnis J et al, The Case for More Active Policy Attention to Health Promotion, Health Affairs, (2002), 21, 2