Community garden founder nurtures a growing interest in lifestyle medicine
By Brian Webster
6th Jan, 2021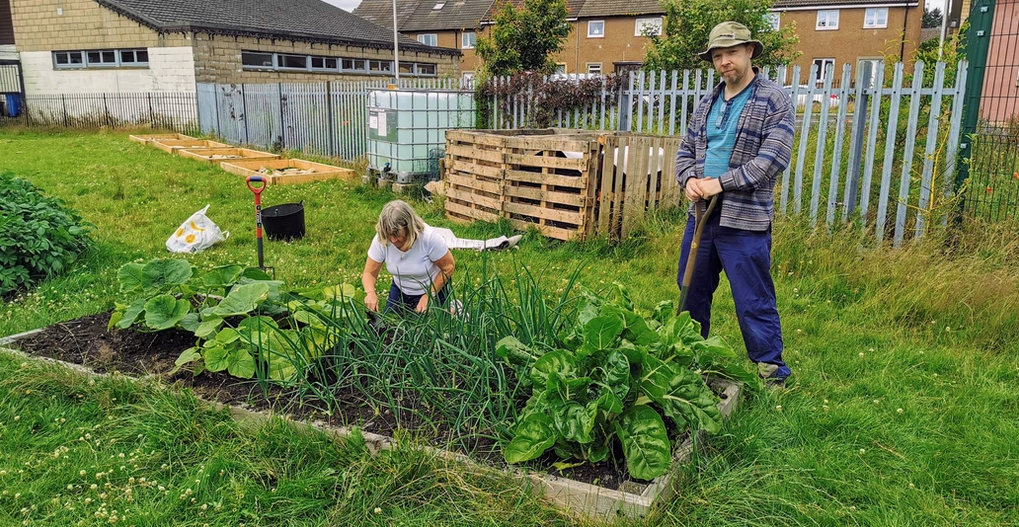 As a nursing student, one of the first essays I wrote for an assignment was on the social determinants of health. I think it was this assignment that got me interested in why people get unwell, physically, socially, and mentally.
Another essay I wrote was on health promotion and I described how many nurses don't tend to see themselves as health promoters unless in a health promotion facing role, despite it being a clear expectation of all nurses by our governing body, the Nursing and Midwifery Council.
I had also this year been listening to many popular podcasts, such as The Doctors Kitchen and Feel Better Live More. These podcasts along with an insight to the social determinants of health got me really thinking about Lifestyle Medicine and where nursing can and should fit in. Where I could fit in.
I had always had an amateur interest in gardening and liked the idea that you can prescribe something that doesn't come in a pill box or bottle. Green Prescriptions and Social Prescriptions. This gave me the idea to initiate a community garden in the area.
Community growing projects are starting to pop up around the UK and slowly their benefits are starting to be taken seriously. Social Farms and Gardens, a charity supporting communities to farm, garden and grow together list some of the benefits as:
Mental health and wellbeing benefits
Physical health benefits
Educational and behavioural benefits
Social benefits
Community growing projects/initiatives offer a green space for locals to come together and grow fruit and vegetables for themselves and others in their community. They offer a free resource of healthy and hearty fruit and vegetables, which is, of course, beneficial to physical health. Then of course, those who take part in the actual gardening benefit from free exercise. The mental health and wellbeing benefits are successful through several factors: being outdoors, meeting new people, having a sense of ownership and achievement, to name a few.
The Royal Horticultural Society state the following as some benefits of community growing for volunteers:
Less stress: 'green exercise' like gardening can help reduce anxiety levels and improve mental wellbeing
Get moving: gardening is a great form of aerobic exercise and could help boost your strength, stamina and flexibility
Better connections: by growing with others you could meet new people and form stronger local networks
New skills: gain new knowledge, such as how to grow fresh tasty food, how to support wildlife, how to improve the local environment and more
Discover: take the chance to explore new areas of your community and improve them while you're at it
The pandemic has seen an increased interest in Grow Your Own, with many people taking up the hobby at home. This is great due to the benefits of gardening on health, not to mention the benefits of eating fresh fruit and vegetables.
Thanks to advances in research, we now know that we should be eating good, healthy, whole food, regularly, as this is important for just about all aspects of our health. The government recommends this, but where community growing comes in, particularly community produce growing, is our fruit and vegetable consumption.
Looking again at government recommendations on physical activity, community growing is a form of gardening. Getting involved in these projects means the volunteers can benefit from the end product, fresh fruit and vegetables, but also the ongoing benefit of exercise and social integration. The Scottish Government published a comprehensive list of the benefits which you can read through here via the Edible Estates website.
Unfortunately, access to fruit and vegetables is not always possible. Lots of factors are at play, such as the Social Determinants of Health. It is therefore great that many community growing projects are popping up all over the UK. These projects can break down disparity, inequality and poor diet and often these infinitives offer the produce for free.
A paper by Glasgow University called Glasgow's Community Garden: Sustainable Communities of Care, really highlighted why community growing projects are having massive impacts, in this quote by one of the locals:
"I decided instead of sitting in the house all day, the garden would get me out and about. It gives me something to do… Me being epileptic as well, it [the garden] helps bring down my stress levels with having something on my mind […] I was in a bad way, drugs and stuff – working the gardens has saved my life" (Volunteer, April 2014).
The resource that I like to use is from Social Farms and Gardens and talks us through Physical Health benefits, the Mental Health and Wellbeing benefits Educational and Behavioural benefits as well as the Social benefits of Community Growing and Green Spaces. Check it out here.
I had and still have my heart and mind set on a career in advanced practice, in a critical care area, but thanks to my new interest and insight into lifestyle medicine, my "blinkers" are starting to widen. The NMC in their most recent report of numbers, stated they have over 675,000 registered nurses and over 38,000 registered midwives, all of which have this health promotion expectation as part of their duty. This is an amazing amount of healthcare practitioners who can really impact on the UK population, if they were to see health promotion, in the form of lifestyle medicine, as an everyday practice. The future is exciting for nurses and I really look forward to seeing new and amazing roles for nurses based solely on lifestyle medicine.

Brian Webster
3rd year nursing student (adult nursing)
Community garden founder