Longcovid: the knowns and the unknowns
By Dr Deepak Ravindran
13th Aug, 2021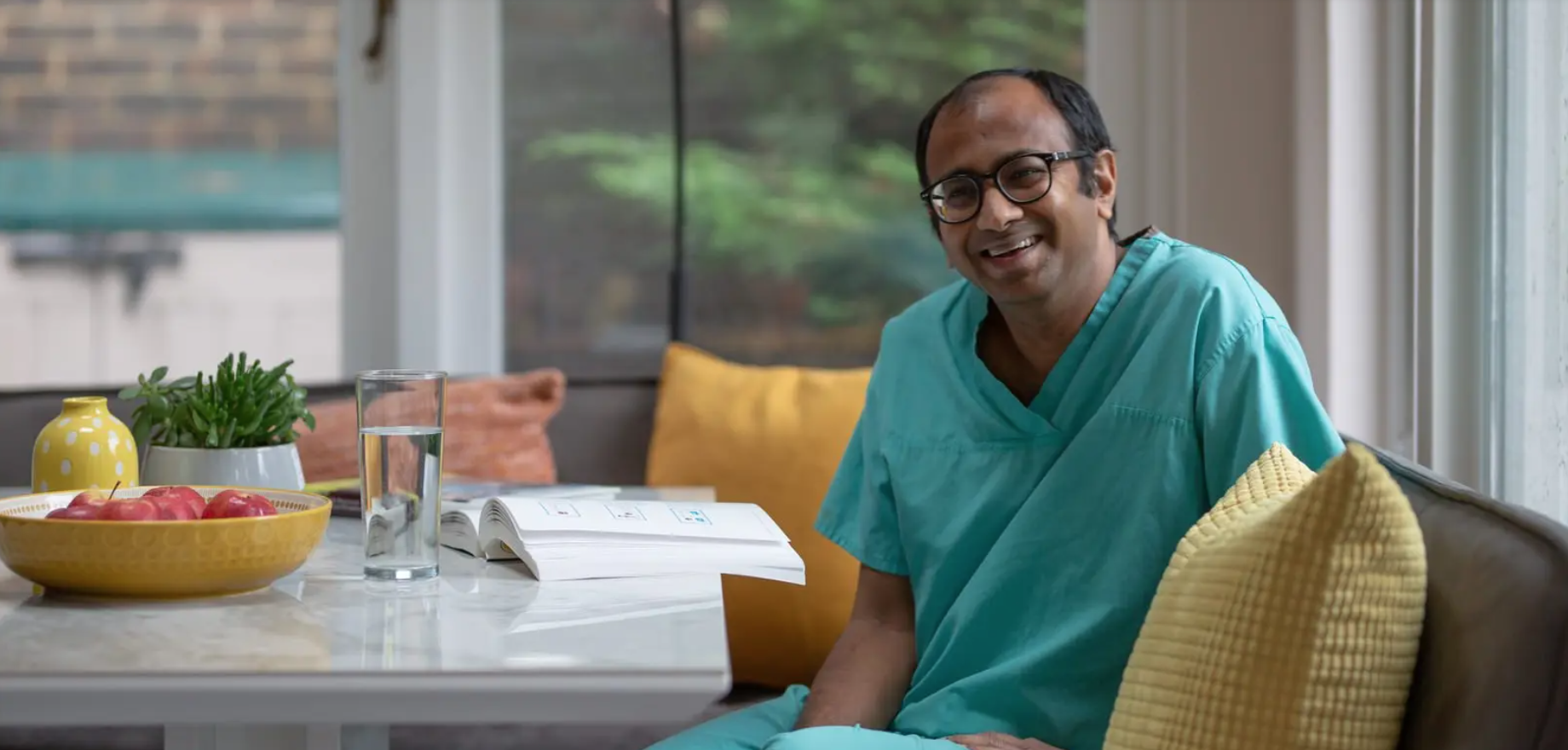 The now famous words of the former US defence secretary, Donald Rumsfeld, concerning "known knowns, known unknowns and unknown unknowns", could have been scripted for Longcovid.
As the recently deceased and controversial politician explained during the Iraq war: "There are things we know we know. We also know … there are some things we do not know. But there are also unknown unknowns—the ones we don't know we don't know."
Thankfully we do know quite a lot about Longcovid already, but we still have much to learn. And in my time working at the Berkshire Longcovid Clinic I'm pleased to say our knowledge has grown considerably.
We know there are a lot of symptoms linked to Longcovid – more than 200 at the last count impacting on 10 organ systems. The most common symptoms are fatigue, shortness of breath, aches and pains, and 'brain fog'.
Main cardiovascular, respiratory and gastrointestinal symptoms include tachycardia, rapid heart rate, palpitations, sweating, tightness around the throat, shortness of breath, loss of taste or smell, nausea, vomiting, and constipation. The predominant normal results of imaging/investigations of these systems suggest that we may be looking at nervous system dysfunction ie dysautonomia as a consequence of viral infection.
Research into causes is currently focused on the disturbance caused to the immune system by a covid infection. There are similarities between Longcovid and some auto immune conditions and evidence suggests the infection may cause an overactive immune system among sufferers leading to new onset autoimmune conditions in some patients.
We don't know exactly how many people in the UK have been affected by the condition – with estimates varying from just one million (ONS) to two million (Imperial College).
So the key question remains: what can be done to support patients with Longcovid? And can the evidence-based discipline of lifestyle medicine help?
Again, there are still things we can't be sure of, but a number of lifestyle-based interventions I have been using with patients in Berkshire have had positive results. We don't have a silver bullet but I believe the following interventions can prove effective among some patients. Not all are lifestyle based but a good number are.
Medication. Firstly, there may be a role for inhalers in some patients with breathlessness, and some patients with palpitations could benefit from cardiac medication to slow their heart rate down. Medication such as antihistamines or steroids may be of benefit but we are still looking at the evidence to see whether everyone can benefit.
Anti-inflammatory diet. An anti-inflammatory diet that is predominantly plant based with good attention to hydration and reduced processed food and sugar definitely can help. Attention can also be paid to the time of eating and techniques like intermittent fasting which could help reduce the inflammation in the gut. A low histamine diet can be of benefit to patients who may have Mast Cell intolerance as a result of their Longcovid. We're still examining the evidence at the moment to establish if this low histamine diet works for everyone but there is anecdotal evidence that it may work for some.
The role of the gut. Because Longcovid may cause our immune system to be over-active this tells us that our intestine – our gut – as well as our nervous system is impacted. There's a strong body of evidence to suggest that paying attention to our microbiome will help. Keep well hydrated, avoid processed foods and consider a wholefood plant-based or Mediterranean type diet. Try elimination diets of gluten, dairy, and sugar.
Stress. An overactive immune system means our fight and flight system may be on high alert. Therefore, stress management techniques for patients is very important. Stress reduction and anxiety management techniques you might want to consider suggesting to patients could include breathwork, meditation and mindfulness practices. Consider exploring the use of wearables and novel techniques like heart rate variability to monitor and modulate stress.
Breathing. Many patients with Longcovid experience breathlessness and Longcovid clinics like mine are working with patients on breathing exercises and breathing retraining to help with what is now termed breathing pattern dysfunction. A simple exercise involves breathing in for three seconds, hold your breath for four seconds and breathe out for five seconds. This can also help with stress reduction. Check out longcovid.physio or physiotherapyforbpd.org.uk for more tips. At the Berkshire Longcovid Clinic we also have a research collaboration with English National Opera to help patients to use singing as a more friendly group activity to retrain their breathing.
Smell. If Longcovid has resulted in continued loss of sense of smell, patients may also with to consider smell re-training which is proven to be useful for other post viral anosmia and parosmias. Several national charities (Fifth sense/Absent) can support people with this.
Sleep. Practicing good sleep hygiene is also important. Sleep disorders – both insomnia and excessive sleepiness – have all been reported in people with Longcovid. I recommend people with Longcovid do all they can to improve the quality of their sleep and to get the recommended seven to nine hours of sleep a day. I would advise people to avoid caffeine after 3pm, reduce their alcohol intake, create a sleep conducive environment in the bedroom and spend some time outdoors in daylight in the morning or afternoon to boost melatonin levels. It's also a good idea to switch off those electronic devices – phones, tablets etc – at least 30 minutes before bedtime. Check out the Sleep Foundation's website for more sleep tips and also explore the use of wearables and sleep trackers to gain more data, subject to the caveats around this technology.
Exercise? Unfortunately, there are no easy answers available to us yet when it comes to Longcovid and exercise. There is some evidence that doing too much exercise can make Longcovid symptoms worse for many people. Our work at the Berkshire Longcovid Clinic is focused on prescribing very personalised physical activity prescription based on the patient in front of us. A lot of this is about pacing and helping patients to understand what their body is capable of – so people don't push themselves too far. It's about achieving gradual improvements and people can do more harm than good if they overdo it in terms of physical activity. People should seek out specialist support to create a personalised plan for them – taking their own personal fatigue levels into account. We have personally found the previous body of work done around pacing by other organisations in managing chronic fatigue very useful.
Mental health. Anything which helps to calm the nervous system down, to reduce our flight or fight response, will also help. This might include formal counselling using something like Cognitive Behavioural Therapy but gentle swimming, yoga, seated pilates, physical activity or tai chi and even a massage can also help.
Longcovid services. And finally … find out about Longcovid services in your area. Many patients who come to my Longcovid clinic in Berkshire tell me they feel listened to and validated just by coming along and meeting specialists and understanding their condition and realising that they are not alone. It helps to reduce the anxiety and stress they are feeling because of the condition.
I hope you find this advice useful. While I am not able to look into my crystal ball and foresee all the covid "unknown unknowns" I believe we do at least now have a better understanding of what we are up against.
I am already seeing positive results among my patients – and am pleased to report that my lifestyle medicine training, including completion of the IBLM diploma through BSLM has helped.
Watch Deepak's video interview on Longcovid recorded for BSLM's 'frontline insights' series
Dr Deepak Ravindran
August 2021

Dr Deepak Ravindran is a Consultant in Pain and MSK medicine and author of The Pain Free Mindset. He is a member and diplomate of the British Society of Lifestyle Medicine and a member of the society's Pain Special Interest Group.
Dr Ravindran is the Clinical Lead at the Berkshire Longcovid Integrated Service (BLIS), one of 89 Longcovid clinics in the UK, where he works as part of a multi-disciplinary team to support patients with Longcovid. The team includes GPs, psychologists, occupational therapists, specialist pain and fatigue physiotherapists, respiratory therapists and social prescribers.