Lifestyle Medicine Week 2021 Day 2
By British Society of Medicine
31st May, 2021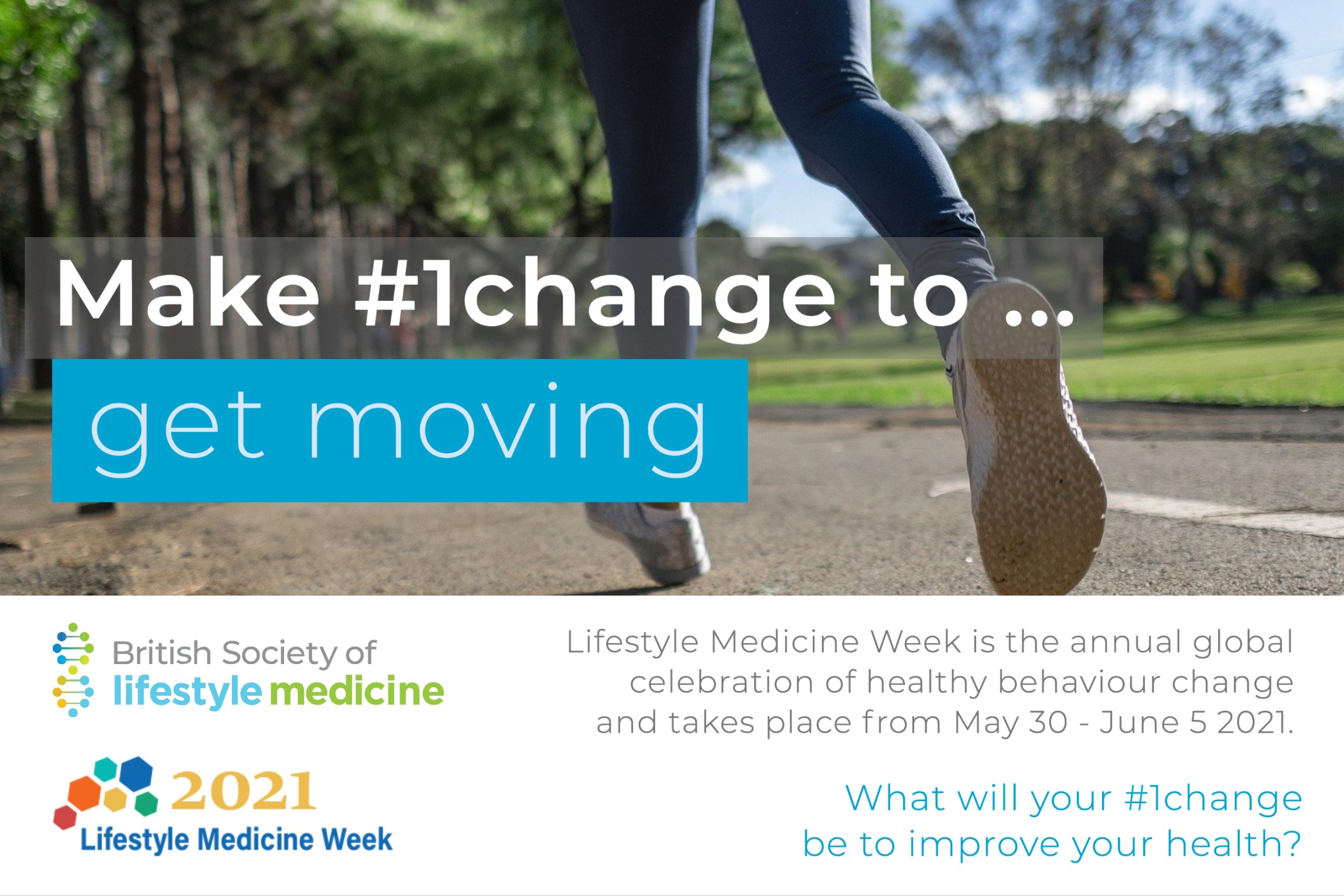 It's Day 2 of Lifestyle Medicine Week and today our focus is on another of the core pillars of lifestyle medicine: physical activity and exercise.
Keeping moving and avoiding a sedentary lifestyle is really important for our overall health and wellbeing. The World Health Organisation has identified physical inactivity as the fourth leading risk factor for global mortality – and during the Covid-19 pandemic we have seen reduced levels of physical activity.
Being more active can have benefits from a health prevention and treatment point of view. There's solid evidence that the risk of developing chronic health conditions including heart disease, stroke, type 2 diabetes and even certain types of cancer can be reduced by regular physical activity.
Being active is also good for our mind, with studies showing it can have a positive impact on brain health and cognition while also reducing the risk from dementia. It can also help to reduce stress, anxiety and depression – and can help us to sleep better.
Physical activity is also a powerful tool to help us address the underlying issue of obesity, which is a factor in many chronic health conditions.
As lifestyle medicine practitioners, the promotion of increased levels of physical activity has to be a key weapon in our armoury.
The NHS recommends that we should all aim to be active every day – and the more we can do the better! To stay fit and healthy, it's recommended you get at least 150 minutes of moderate physical activity a week, or around 20 to 30 minutes a day.
But how can we build up our own physical activity levels and those of our patients? It's important for people to find the right type and level of physical activity to suit their personal circumstances. Aim to find what works for you and what you can keep doing for at least 30 minutes.
During Lifestyle Medicine Week why not commit to #1change to get you moving more?
Watch this video from BSLM member and GP Dr Clare Nieland recorded especially for Lifestyle Medicine Week on why we need to get moving …
Top tips to get you moving:
There are lots of things we can all do to get moving and increase our physical activity levels …
Join a local club or group – taking part in physical activity with others can often help you to get motivated
Avoid lifts and escalators and take the stairs
If you're catching a bus why not get off a stop early and walk the rest of the way?
Avoid short car journeys and walk instead.
Set aside a time each day to be physically active – you're more likely to stick with it if you do it at the same time of day every day.

Here are some other great resources around physical activity which you may find useful …

Physical Activity

Michael Bird

One Change: A True Story of Lifestyle Medicine

Mike Banna

Where else can I get help?

BSLM is hosting a free webinar on June 15th and we will be hearing from BSLM favourite Darryl Edwards the founder of Primal Play. Darryl is a passionate advocate of the benefits of building movement into our daily lives. Find out more at Darryl's website.

The webinar also features Hugh Bethall, a clinician who has spent his career in the clinical application of exercise, particularly with patients with heart disease. Find out more on Hugh's website.

The webinar is free to all BSLM members. Find out more and book your place at https://bslm.org.uk/events/webinars/