NE & Cumbria Regional Meet
Join the NE & Cumbria Regional meet on Wednesday 14th June at 7.30pm for an initial online meeting, to get to know everyone from the area and plan some key focus areas relevant to the community.
---
7.30pm, 14th Jun, 2023 - 8.00pm, 14th Jun, 2023
Online Zoom Webinar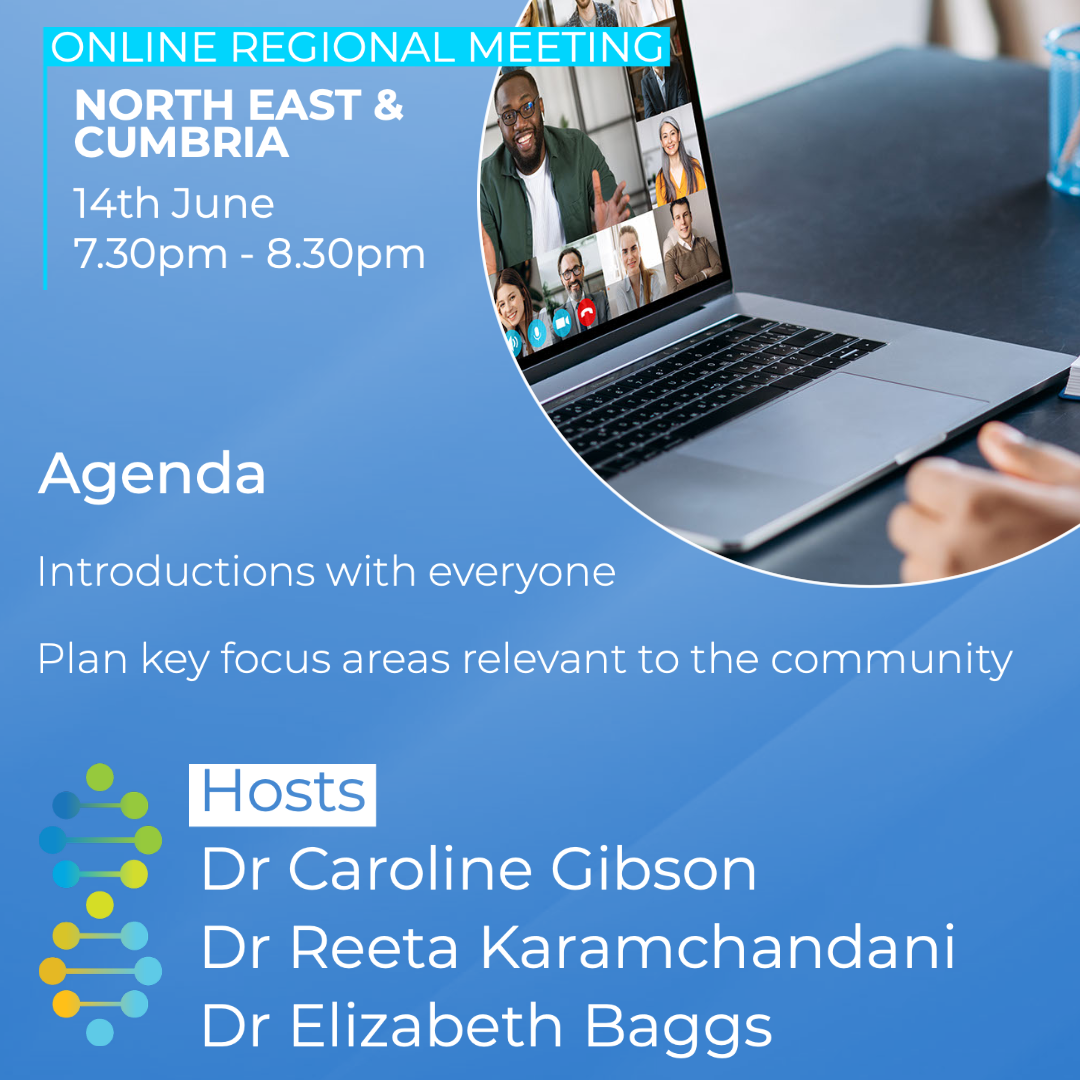 ---
BSLM are delighted to announce that a NE & Cumbria Regional Group is being formed and our many thanks to Caroline Gibson, Reeta Karamchandani and Elizabeth Baggs for taking up the roles and their enthusiasm to get the Regional Group up and running.
Caroline, Reeta & Elizabeth have introduced themselves below and would welcome anyone in the Region who would like to connect and be part of the Group to get in touch directly.
We have mirrored the NHS ICS regions so they are quite big, but we welcome smaller activities at a local level too and appreciate everyone's help in that regard.
A Regional WhatsApp Group has been set up for the purposes of engaging, sharing articles or other resources as relevant. This can often be the easiest way to get consensus on meeting times or quick exchanges – please join by clicking on the button below.
---
Initial Online Meeting:
---
Caroline has suggested Wednesday 14th June at 7.30pm for an initial online meeting, to get to know everyone from the area and plan some key focus areas relevant to the community. The link to this is below and if prompted the passcode is "638241".
---
Register for the Online Meet-Up Here
Introducing Reeta, Elizabeth & Caroline:
---
---
Dr Reeta Karamchandani
My Lifestyle Medicine Journey Having completed my GP training in 2006, I knew I was suitably placed to help make a change in the community. But something was amiss. Many family members' friends and patients were being diagnosed with diabetes; many family members who had diabetes suddenly passed away due to a heart attack (MI). I also realized that the impact of menopause on our workforce was significant. I then discovered what I was so desperately looking for – 'Lifestyle Medicine' and 'BSLM'. Having completed the Lifestyle Medicine Diploma in 2018, then Culinary Coaching in 2019, I was equipped with the knowledge and skills of health coaching, based on the principals of motivational interviewing. In my quest for a platform to apply the knowledge, I found LSCTH and the Wellbeing programme for NHS people. I endeavour to empower you with practical tools to apply the knowledge at an individual and community level. I hope to influence policy makers and offer a platform for peers to share our vision.

Dr Reeta Karamchandani MD (Respiratory medicine) MRCGP-UK Dip BSLM/IBLM Culinary coach-Harvard

Roles GP- NHS Wellbeing advocate-LSCTH Appraiser NHS Multiple roles with Lancaster Medical School Supervisor -SPLW (BAM PCN) Regional lead-BSLM (Cumbria) CHIP Facilitator-(CLM/LMI) Founder-Your Inner chef
---
Dr Elizabeth Baggs
I'm Elizabeth Baggs and I'm passionate about health, fitness and mindful living.

After leading an unhealthy lifestyle for many years (in the NHS!) and finding myself unhappy with my weight I embarked on a journey of renewal.

I discovered CrossFit and haven't looked back since! I am also blessed with living not far from Northumberland national park so you'll often find me up some fell with the dogs.

I had trained in Anaesthetics and ITU, Now I cover acute medicine whilst working toward my lifestyle medicine diploma and health coaching. I strongly believe that if you get the fundamentals right then anyone can live a happy, fulfilled and healthy life. Our health service is under immense burden and it's great to see the tide changing in terms of prioritising preventable factors rather than relying solely on drugs and surgery.

I'm looking forward to creating ideas with people who are passionate about lifestyle medicine in the North East so that we can create a formidable team to take on the unique challenges associated with the region.

---
---
Dr Caroline Gibson
Hi all!

I'm Caroline Gibson, and I am delighted to be taking on the role as BSLM Regional Lead for the North East area.

Firstly, a little bit about me; I am a portfolio GP and also a qualified coach. I'm also mum to three children, so I am very familiar with how difficult it can be trying to find that elusive work-life balance and live a healthy lifestyle at the same time. I love to run and cycle, and I also regularly practice yoga and mindfulness. My favourite thing to do is to go for long walks out in nature, especially in trips to the Lakes with my family, usually getting rather wet in the process in typical Lake District weather.

For me, one of the best things about lifestyle medicine is meeting so many like-minded health professionals with shared interests and enthusiasm. I am always passionate about sharing my interest in lifestyle medicine and working with people to spread the word about how powerful it can be for making a real difference in our work with patients. In my work with health coaches I see the power of sharing ideas and working together to spread good practice.

Social connection is one of the pillars of Lifestyle Medicine, and I would love to put this into practice in our area, and create a community of Lifestyle Medicine enthusiasts with a network to share ideas, inspiration, experience and successes.

I thought we would start by creating a local WhatsApp group, and having an introductory online meeting so we can put faces to names. Therefore, I'd like to invite you to come along on the evening of Wednesday 14th June at 7.30pm to an online gathering.

I hope to see you there. To register, or just to say hi, please do get in touch, either via WhatsApp in the NE BSLM group, or Instagram or Facebook @drcarolinegibson. I would love to hear from you!